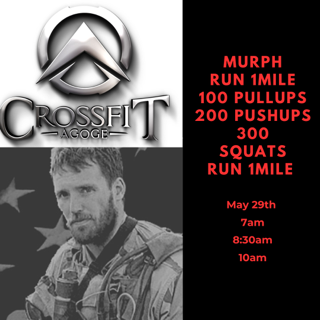 We will have a kids class at the 10am time, everyone welcome regardless of whether or not they are members of the CrossFit Kids program.  Preteens and Teens are welcome to join adults, they will be scaled appropriately by the class trainer. 
WORKOUT OF THE DAY
Warm Up:
CrossFit Warm Up
Skill:
Prepare to work hard. This is meant to be challenging as a reminder for all of us to be grateful for our lives in light of those who have lost theirs defending others. As always, we will scale if needed. 
WOD:
"Murph"
Run a Mile
100 Pull Ups
200 Push Ups
300 Air Squats
Run a Mile

Partition Reps as you see fit. 
Skill/Mobility: